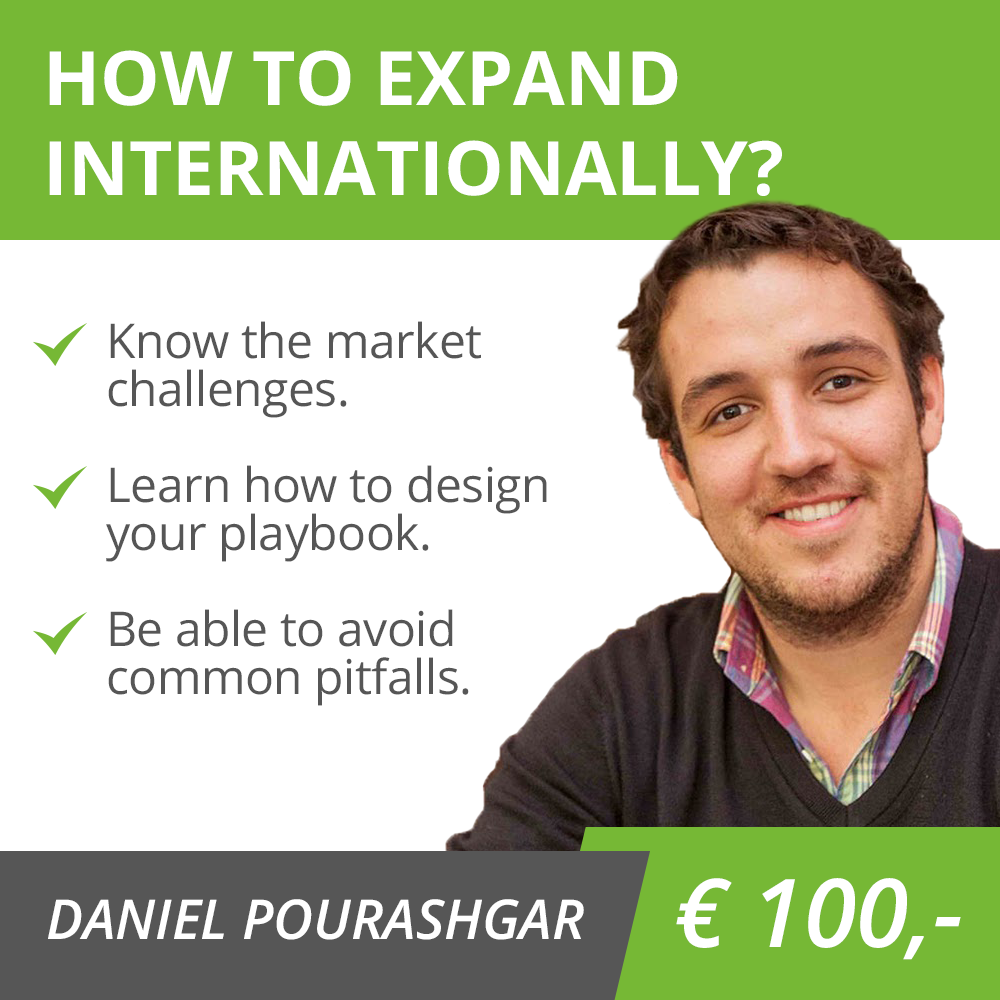 What's included?
Know the market challenges
After mastering a domestic market, you might think about going abroad. How hard can it be? Turns out not that easy. The markets can be easy, you may have barriers to entry, more competition or simply no match for the culture of your new target country. Find out what the typical challenges are when expanding internationally.

Learn how to design Your playbook
Once you've proven it works in one market, write it down before trying a second one. This so called playbook is your blue print for new markets. If you envision an international large scale company you will constantly refine it for each market, learn from other markets what has worked and what special challenges you have already mastered for that region. 


Be able to avoid common pitfalls
Daniel was involved in the international expansion for Airbnb and has seen a lot. Discuss with him the common patterns and find out what works and what doesn't. Learn about relevant examples of big time failures and benefit from the learnings. Be smart and be able to avoid the common pitfalls, where many others have already failed! 

What do I need to get the most out of this package?
You are familiar with the relevant challenges of Your market/branch.
You are clear about the benefits of Your offering and Your target groups.
You have a track record from selling Your product or service to the domestic market.
You have a plan to which countries You would like to expand and you have some data supporting your arguments.
Included minutes: 30

Who is Daniel Pourashgar?
Worked on international expansion at Airbnb, led product recruiting and is now an associate product manager for Airbnb experiences.
Daniel currently works as an Associate Product Manager at Airbnb focussing on offline guest experiences conducting design research, prototyping and debriefing. His work recently led to the creation and growth of a new product team providing guests with unique local experiences. With multiple years of experience hiring teams and key roles both at Airbnb and other companies Daniel knows how to not only hire people with the right qualifications but also the right cultural fit. He established recruiting processes that put the focus on candidate experience without losing efficiency.
He was first tasked at Airbnb with international expansion, creating the playbook used to scale operations to a dozen offices worldwide, hiring country managers and strategic partnerships for growth.
Before starting at Airbnb Daniel lived in Germany where he co-founded and sold a game company for social networks and worked for numerous startups and in consulting in business development and recruiting.

Here's what other entrepreneurs say about Daniel:

"Daniel is an incredible hustler, and an immeasurable asset to every team I've seen him work with during his time at Airbnb. He has an almost uncanny ability to just get things done – combined with his design chops and product sense, I'm not sure I've ever worked with a such a dedicated and adaptive individual."

Andrew Vilcsak

Daniel is experienced at: Online/Offline Product Design, International Expansion


Other focus areas: Recruiting
Daniel speaks: English, German

** All prices includes 20% VAT. Packages include a fixed set of minutes. Additional minutes are invoiced at the expert's standard rate of €3.50/min (incl. 20% VAT).