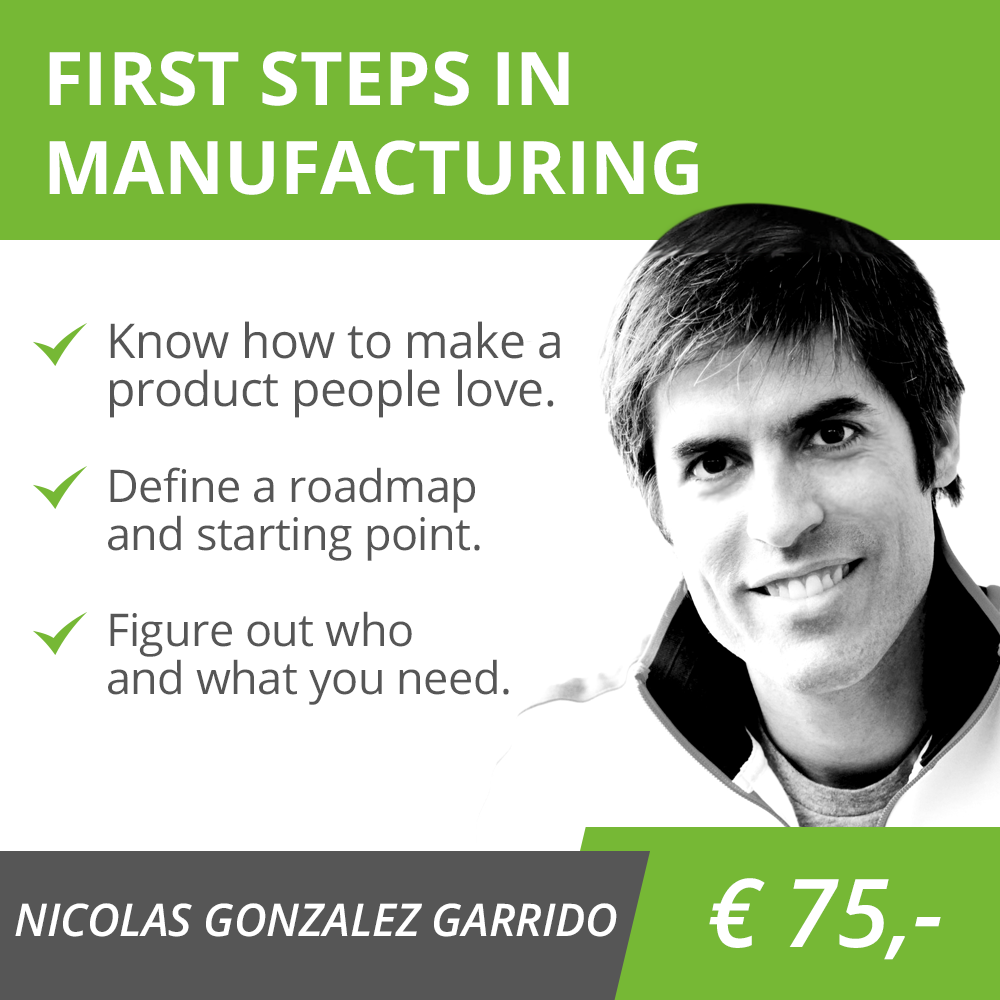 What's included?
Know how to make a product people love
Manufacturing is a journey with many stations on the way to the final product on the market. If you want to have success with your product, then you should start by building a deep understanding about your customer and his or her desires. Learn how to relate your product to the true needs and engage people with your solution. 

Define a roadmap and starting point
Just having a product design is not enough. Learn about manufacturing from early prototypes, local and foreign producers, supply chains and everything involved in creating a real life product.
What are the important things about managing the manufacturing process?
How do you estimate realistic deadlines? 

Figure out who and what You need
Before you start with the actual manufacturing, you have to build an understanding for all the expertise and raw materials you might need. Learn which are the important relationships and start working on them upfront. Find out how to scout for resources and be more creative about it. Focus on the big picture, while still handling all the small details on the way. 
 

What do I need to get the most out of this package?
You have a validated (hardware) product idea.
You understand the core value of your product.
You have a rough product design in mind .
Included minutes: 40

Who is Nicolas Gonzalez Garrido?
Nicolas has 14 years of experience designing products for a wide range of clients, from start-ups to Fortune 500 companies in USA, South America,Europe and Asia.
Nicolas has postgraduate studies in Strategic Design Management and in Marketing. He currently teaches Innovation and Creativity Techniques at the Salzburg University of Applied Sciences, is the founder of Studio KANSO, Co-Founder of HardwareTribe.com and part of the mentor network of the Berlin Hardware Accelerator.
Nicolas has a passion for design, innovation, marketing, technology and business strategy. He believes that hard work, a good sense of humour, creativity and cross collaboration are essential to achieve excellence and keep competitive in a constantly changing world.
Here's what other entrepreneurs say about Nicolas:

"Nicolas is able to design original products and set brand recognition through a number of subtle design language elements. He is also able help you execute on the vision being organised and meticulous. He has extensive knowledge of manufacturing and will be an asset when bringing your product to market."

Inouk Bourgon - Internet of Things Maker & Entrepreneur


"Nicolas is a gifted and ambitious designer, striving to think beyond borders, providing real content and facilitating the user-experience in his product designs. He understands complex correlations paired with very good analytic skills. Nicolas is always seeking for the latest trends in design and technologies to share with his colleagues. As a constructive team-player, Nicolas is always strongly committed to the quality of the project result. …and by the way, he is a very cool guy…"

Nils Radau - Group Senior Designer bei Kiska GmbH
Nicolas is experienced at: Design, User Experience, Manufacturing

Other focus areas: Strategic & Experience Design. Product, Service & Business innovation. Framing large or ambiguous challenges. Identifying opportunities to create value and meaning.
Nicolas speaks: English, Spanish
More from Nicolas Gonzalez Garrido
Portfolio of Nicolas

gallery | EN

** All prices includes 20% VAT. Packages include a fixed set of minutes. Additional minutes are invoiced at the expert's standard rate of €2.00/min (incl. 20% VAT).