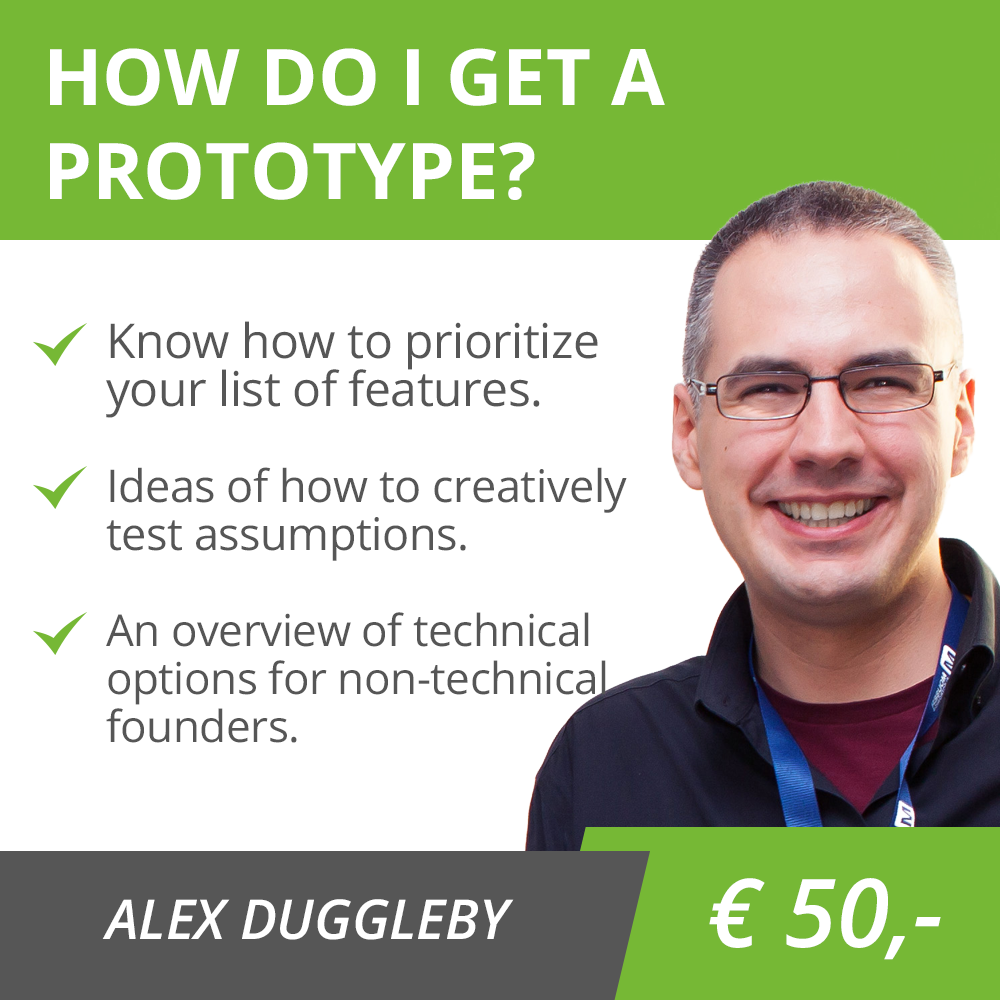 What's included?
Know how to prioritize your list of features
Once you have spent some time working on a business idea and have gathered feedback from potential customers you will usually have a long list of features your product must have and features your product should have. But your resources are scares and even the must have feature list is usually too long to implement all at once. Figure out how to reduce the list to a Minimum Viable Product (MVP) that include only those features you need to solve the pain or problem your customers have and not any more.
Ideas of how to creatively test assumptions
Technically minded people often have the urge to start implementing ideas in software or hardware immediately, but often this means spending a considerable amount of time developing the solution and this is time that is better spent testing your idea in the market. There are many options for testing ideas without implementing software using a toolkit of tools, manual processes and duct tape that deliver the required feedback and let you iterate much faster than having to adapt the software every time you get feedback.
An overview of technical options for non-technical founders
As a non technical founders you may be overwhelmed by the technical world and the options it offers. Based on your solution you will get a list of options for implementing your MVP and further versions with pros and contras. 

Prerequisites:
You've identified the riskiest aspects of your business model.
You roughly know how much money you can invest (it doesn't have to be a lot, but you should have a defined budget).
Included minutes: 30

Who is Alex Duggleby?
Entrepreneur and freelance software developer, experienced in prototyping with minimal technical effort.

Alex is co-founder and the technical lead of WhatAVenture GmbH "We help you get started, turning your own idea into a business success." Besides being a tea fanatic and persistently curious, what he really likes doing is tinkering on new ideas and building concepts around them. Thanks to his analytical way of thinking, Alex is very good at coming up with assumptions about different business models.
His technical and economical background help him think of awesome ways how to efficiently create hardware and software prototypes. He has worked with numerous startups and helped them to get to the desired levels of success.
Alex has more than 13 years of experience in software development in and for different industries (ranging from academia to health and energy sector)
He has CS degrees from TU Vienna & TU Munich (MSc, BSc respectively) and a Business degree (in Entrepreneurship & Innovation) from University of Economics in Vienna.

Alex is experienced at: Software & Hardware Prototyping, Developing creative assumptions for new business ideas
Other focus areas: .NET Development, Startups
Alex speaks: English, German

** All prices includes 20% VAT. Packages include a fixed set of minutes. Additional minutes are invoiced at the expert's standard rate of €1.50/min (incl. 20% VAT).