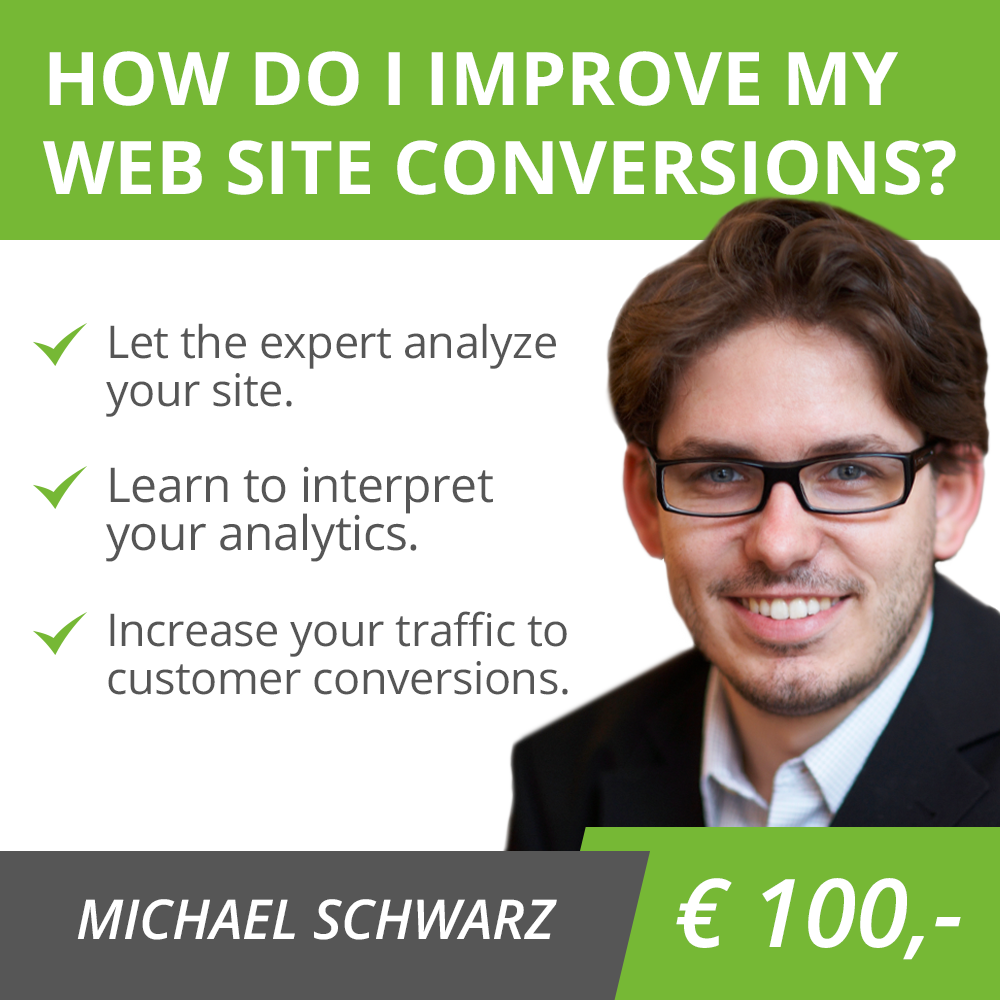 What's included?
Let the expert analyze your site
How does a professional see your website? How does a search engine see it? What are the common mistakes to avoid? How can you increase traffic to your website by optimizing sections, meta information and updating strategies.
Learn to interpret your analytics
Improving involves tracking what users of your website do. Learn how to implement analytics and how to interpret them. Learn to setup goals for your website that correlate to business metrics and how to track them over time.
Increase your traffic to customer conversions
If your website gets a lot of traffic you want to convert them into customers. Learn how to guide your users to the products your offer and understand where they are jumping off your prepared track and why. 

What do I need to get the most out of this package?
You have a running website with some visitors.
Ideally you have already setup an analytics package and gathered data for 1+ months (eg. Google Analytics).
You have some knowledge about your sales funnel and a clear goal setting regarding the role of your website for your business.
Included minutes: 30

Who is Michael Schwarz?
Michael is a former Google employee who improved search results for the German market and has in-depth Adwords knowledge.
Before founding his search engine optimization and marketing agency Improove, Michael worked for Google in Dublin as a Search Quality Engineer for the German speaking market and improved the results significantly.
His knowledge of the inner workings of the Google search engine gives him unique insights for optimizing your web presence. He's able to look from the eyes of a search engine and adjust accordingly.
Born in Graz, Michael has a business degree from Vienna and New York specializing in international marketing. He has worked across the Asia and Europe in different industries including broadcasting.
Here's what other entrepreneurs say about Michael:
"Michael's guidance was invaluable in helping Offers.com recover from a Panda penalty, leading to record-setting organic traffic and revenue. His intimate knowledge of quality signals and ranking factors kept us focused on meaningful action items and strategies that not only increased our organic visibility, but ultimately helped us shift our focus to a user-centric strategy that has paid dividends in terms of engagement.It is no exaggeration to say that Michael and his team helped us take our organic visibility to another level, and in so doing, transformed the business. Michael is humble and thoughtful in presenting his analysis - but not afraid to tell it like it is. There is always guesswork involved when it comes to deciphering what Google likes or doesn't like - but Michael has a poise and confidence that only comes from actual experience and knowledge. I can't remember a call or conversation with him that I didn't walk away with some new valuable nugget or insight. I've been fortunate to work with and learn from some of the most talented minds in the search industry, and Michael is the cream of the crop - my 'go-to' guy when things go sideways, or when its time to take things up a notch."

Dan Roberts - Director of SEO at Offers.com


"I worked with Michael and his team at Improove on some technical SEO aspects of the old About.com website. Michael did an excellent job of highlighting the deficiencies and making improvement suggestions. What was even more impressive was Michael's ability to present his findings in front of the executive team and walk away with approvals and a budget for all items he suggested."

Igor Lebovic - (CEO at Kindly)

Michael is experienced at: SEO/SEM, Adwords Marketing

Michael speaks: English, German
More from Michael Schwarz
SEO-Relevanz von Facebook 
ist für Google eher gering

article | DE

** All prices includes 20% VAT. Packages include a fixed set of minutes. Additional minutes are invoiced at the expert's standard rate of €3.50/min (incl. 20% VAT).