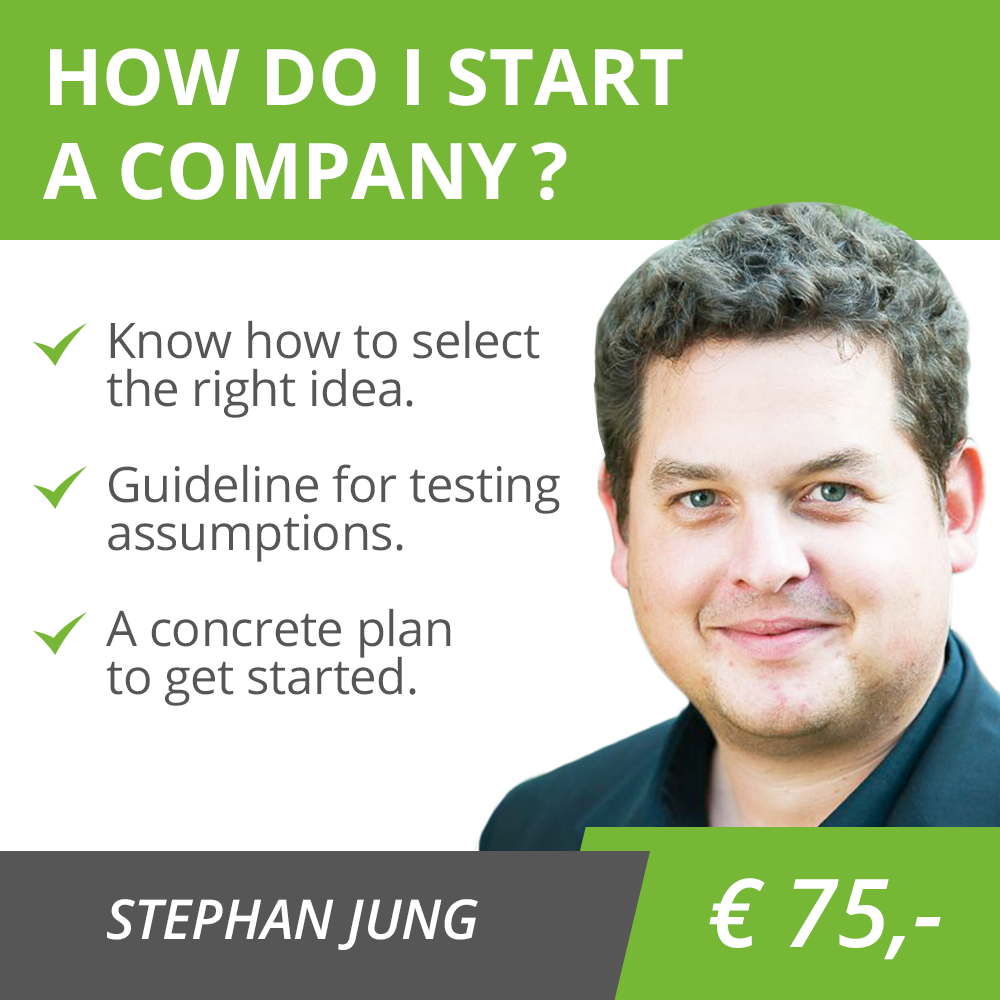 What's included?
Know how to select the right idea
Selecting the right idea is crucial for your new business. Evaluating ideas is an important skill for deciding to invest resources into a new business. Be able to determine a ballpark figure for market size, and know how to identify the most important deciding factors with basic research and deduction.

Guideline for testing assumptions
After you have chosen an idea to work on it is time to figure out what your future customers think about it and your solution. Learn how to conduct interviews, surveys and other techniques for gathering this information. Learn what questions to ask and what answers to expect, what pitfalls to avoid, how to manage all the data you have collected and derive valuable suggestions for your idea. 

A concrete plan to get started
Having a basic roadmap for getting from a list of potential ideas to actually starting a business is an important asset. Learn what steps you must go through, which are nice-to-have based on your idea and market, how much time to invest in each step, when to invest more based on feedback and how to prioritise.
What do I need to get the most out of this package?
You have a list of past work experiences.
You have a clear understanding of your passion areas.
You have at least vague idea of what you'd like to develop.
Included minutes: 60

Who is Stephan Jung?
Stephan is an entrepreneurial generalist with an impressive track record in founding & funding start-ups. On his academic side of life, he has gained significant experience and knowledge in research and teaching entrepreneurship, currently as professor for entrepreneurship at University of Applied Sciences Krems.
On his economic side of life he worked as an investment professional for a venture and mezzanine capital fund in Vienna, co-founded a software-as-a-service (SaaS) company in Germany and is Startup-Mentor at Conda and i5invest. Additionally, he is the local representative of Austrian Startups for Lower Austria.
Stefan is experienced at: Startup Coaching, Fundraising, Business Development
Other focus areas: Entrepreneurship & Innovation Research, Various Advisory Board Roles and Corporate Development/Financing
Stephan speaks: English, German
More from Stephan Jung
8 Tipps vom Startup-Professor Stephan Jung für das eigene Business

article | DE

** All prices includes 20% VAT. Packages include a fixed set of minutes. Additional minutes are invoiced at the expert's standard rate of €1.50/min (incl. 20% VAT).