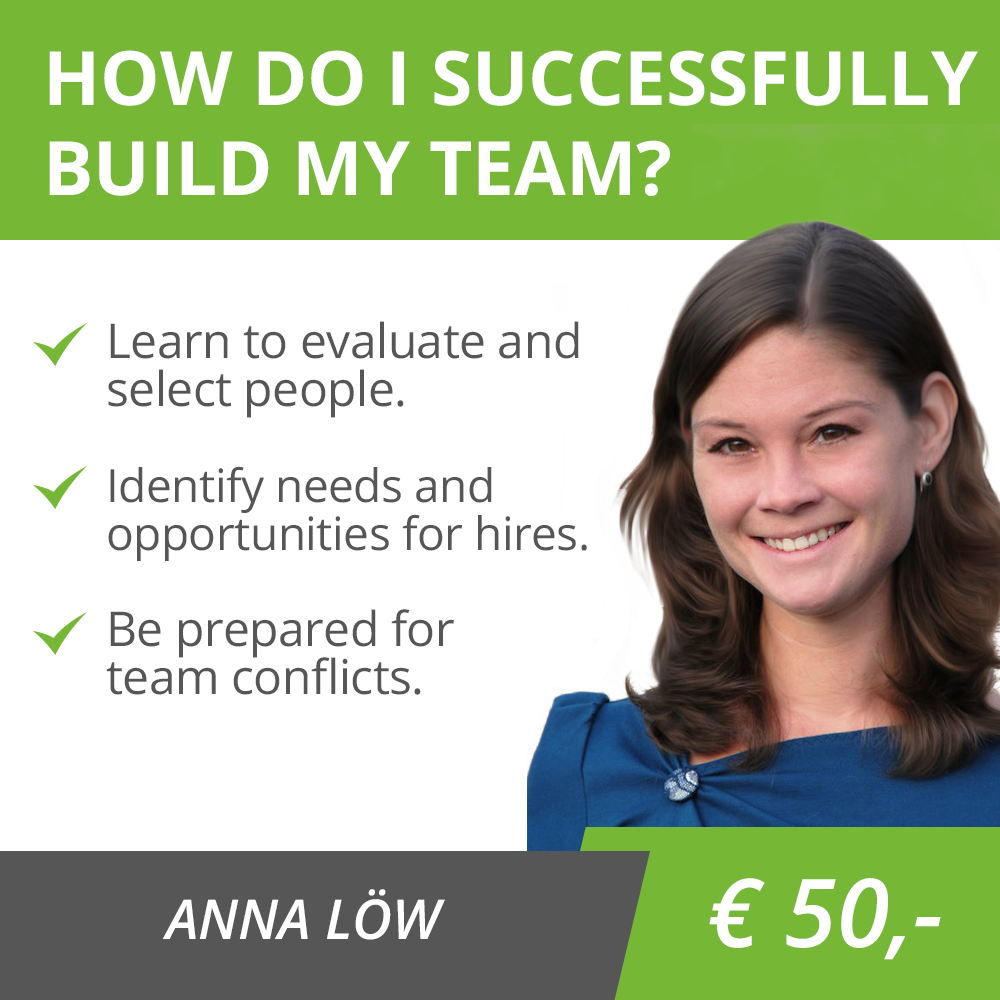 What's included?
Learn to evaluate and select people
While being a solo-preneur can work out for the early stage of a venture, you are better off finding a team of people to work with you. Even going from a founding team to employees bring very new challenges, such as culture and on-boarding processes. Learn how to the true characteristics of a candidate and understand if they are a good fit.  
Identify needs and opportunities for hires
Hires result from specific needs that arise in your company. Be conscious about the existing people structure and identify what each one is best at, what he does not like doing and where nobody is doing something that should be done. Develop a sustainable strategy for gradual adjustments in your team. Know how to recognize opportunities and when is it worth it to make use of them. 


Be prepared for team conflicts
Many teams fail because of internal conflicts. It's just part of being a founder. One day you love them and others you just want to be left alone. Founding a company is often compare to a marriage. Be prepared for conflicts, recognize them, develop strategies to work around them or talk about them. Maybe even make them work in your favor.   

What do I need to get the most out of this package?
You have a clear understanding of your concept.
You know the core competencies, skills and roles of your team.
You are familiar with your team's strong/weak sides and their personal roles.
Included minutes: 30

Who is Anna Löw?
"Simple solutions and mediation to overcome founder and team conflicts that plague a large percentage of young companies."

Anna has studied at the Passau Uni. Since 2008 she has been actively involved in the topics of HR and management. She knows how to recognise internal cultural specifics and bring structure to the hiring process.
Anna has extensive HR experience consulting large established companies. With her current focus on assisting younger companies and startups, Anna turns problems into potentials and creates a win-win for everybody. She has helped numerous organisations overcome their HR hurdles.
Have You reached a point where You want to expand the team but have never hired anyone before?
Anna is a HR generalist and will guide You through the important points to set You up for success. Since every company has it's own culture, Your hiring and personnel development must cater for Your specific needs. and Anna will help You figure them out.


Anna is experienced at: First Hires/Team Expansion


Other focus areas: Founder Conflicts, Mediation
Anna speaks: English, German

** All prices includes 20% VAT. Packages include a fixed set of minutes. Additional minutes are invoiced at the expert's standard rate of €2.00/min (incl. 20% VAT).