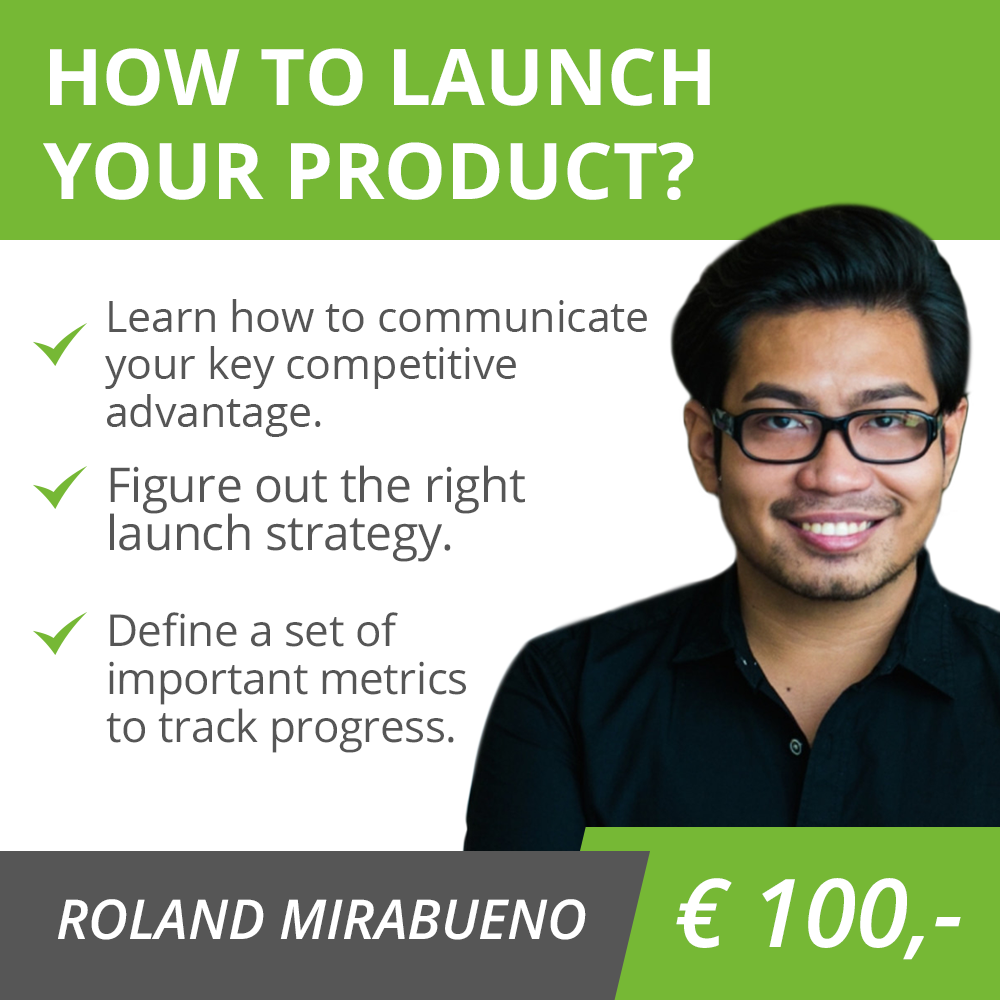 What's included?
Learn how to communicate your key competitive advantage
Your business model is sound you have tested a number of basic versions of your solution and arrived at the first version of your product that you want to launch to a wider audience. Learn how to communicate your specific value and competitive advantage to the right target group.
Figure out the right launch strategy
Find out what steps you need to take to launch your product, how to best reach your target group and multipliers that help you market to them. Learn the different strategies (big bang or soft launch) and what options are best suited to your idea and customers. 


Define a set of important metrics to track progress
Is it the number of likes on a social media or page views sufficient for your business model or do you focus on the number of paying customers? Learn about basic metrics that every business should track and how to interpret them. 
 

What do I need to get the most out of this package?
You have a product/service, which is ready for launch.
You have clear understanding of your industry and main competitors.
You have a vision about where you want to go with your product/service.
Included minutes: 50

Who is Roland Mirabueno?
Get critical feedback on your online marketing strategy backed by data, experience, and industry practices.

Roland's degree in Economics has helped him craft an airtight Conversion Rate Optimization strategy allowing his company to run more successful A/B tests in one year than in the entire company's history.
He started out as a Business Writer for an American journal before joining the legal publishing department of Thomson Reuters. There, he managed multi-million dollar publication projects acting as Publishing Specialist. He later became a Project Manager for Mindvalley (a tech and internet marketing company) where he quickly became the head of the Optimization Team and later on the Product Launch Team.

Here's what other entrepreneurs say about Roland:

"Roland is one of the best in the world when it comes to conversion optimization. He gave me one simple tip that took less than 5 minutes to implement that immediately boosted my conversions even better than they already were. And one of the reasons they were so good in the first place was because I had been following and implementing all his conversion-boosting tips on the Mindvalley Insights blog. If you want to improve your funnel or increase your sales, Roland is THE guy to talk to and learn from."

Kevin K. (CEO of The Breakup Doctor)


"Roland is a NINJA. Just when I think I've thought of the best things to test and tweak, he comes up with something even better. I am so confident in Roland's expertise as a conversion rate optimization specialist that he is the first person I think of contacting when I need help improving my funnel and increasing my sales."

Sean P. (CEO of Alska Publishing)
Roland is experienced at: Internet Marketing, Product Launches, Conversion Hacking
Roland speaks: English

Other focus areas: Split Testing, Project Management
More from Roland Mirabueno
Avoid This When Designing Your Order Menu

article | EN

How To Innovate On Your One-Time-Offer Page With A Video

article | EN

** All prices includes 20% VAT. Packages include a fixed set of minutes. Additional minutes are invoiced at the expert's standard rate of €2.00/min (incl. 20% VAT).