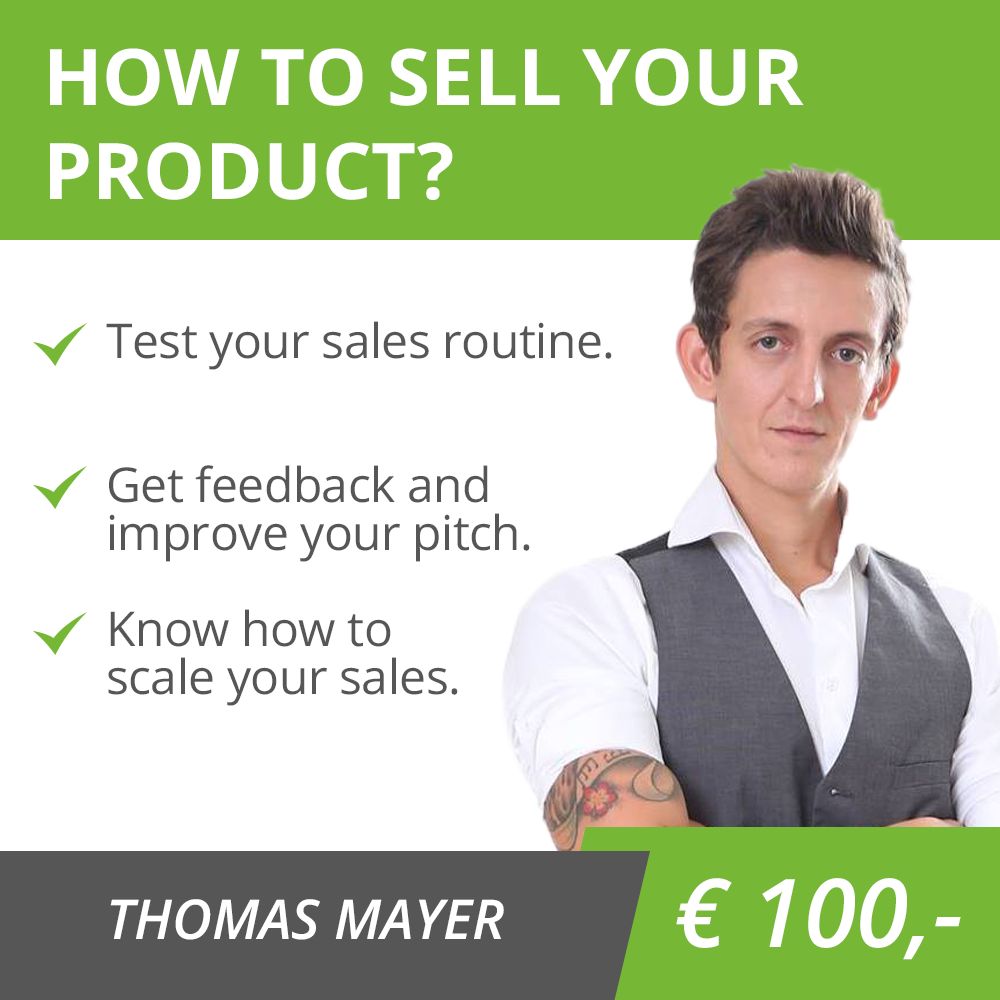 What's included?
Test your sales routine
Is your sales pitch short and sweet? Are you getting the message across? Are you creating an emotional response? Train your routine as often as you would like with Thomas the sales trainer until you get it right. He will act as the customer, allow you to practice cold sales conversations and anything you want to try on a trainer before you go into the market. 

Get feedback and improve your pitch


 Let Thomas know who your target audience is and show him what you do in your sales conversations. Get actionable feedback and lay down a plan what to improve and how to do it. Learn how to be flexible and lead your customer through the sales process.
Know how to scale your sales
Moving from a single customer to a whole segment or branch can represent a big challenge. Find out how to differentiate between your customer segments. Learn the first moves for selling to a corporation and know what's important. Acquire fundamental knowledge on sales and then how to scale up. 

What do I need to get the most out of this package?
You know Your target group(s).
You understand Your product and it's specific benefits.
You know in which direction You want to scale your sales.
Included minutes: 40

Who is Thomas Meyer?
Thomas has 10 years of experience in sales in various industries and markets. Now he's coaching startups on building their sales team and processes.
Thomas started his career as a salesman for the family business importing and exporting wood from Eastern to Western Europe. This is where he learnt "old school selling". After gathering experience in Slovakia, Romania and Austria he studied Entrepreneurship at FH Wien and has been training sales teams for 2 years.
He has established a new format especially for sales in startups. If you are getting ready to scale your sales team (maybe you as the founder are still doing sales yourself) or want to improve your sales processes and tactics - Thomas will help you define goals and help you reach them with practical hands-on advice.
His workshops are focused on new sales strategies for new markets: Young. Modern. Special.

Besides being a great coach, Thomas is also the sales director of Die Sozialisten - Software Development GmbH
Here's what other entrepreneurs say about Thomas:
"Ich hätte nicht mit so einem Seminar gerechnet. Zuerst denkt man: Er ist zu jung. Er ist zu unerfahren. Doch am Ende des Tages wird man eines besseren belehrt."

Kursteilnehmer Wien


"Zugegebenermaßen war ich skeptisch. Doch mit einer entsprechenden Offenheit den Inhalten gegenüber kann ein jeder etwas für seinen beruflichen Werdegang mitnehmen."

Kursteilnehmer Wien
Thomas is experienced at: Sales
Thomas speaks: English, German

** All prices includes 20% VAT. Packages include a fixed set of minutes. Additional minutes are invoiced at the expert's standard rate of €2.50/min (incl. 20% VAT).