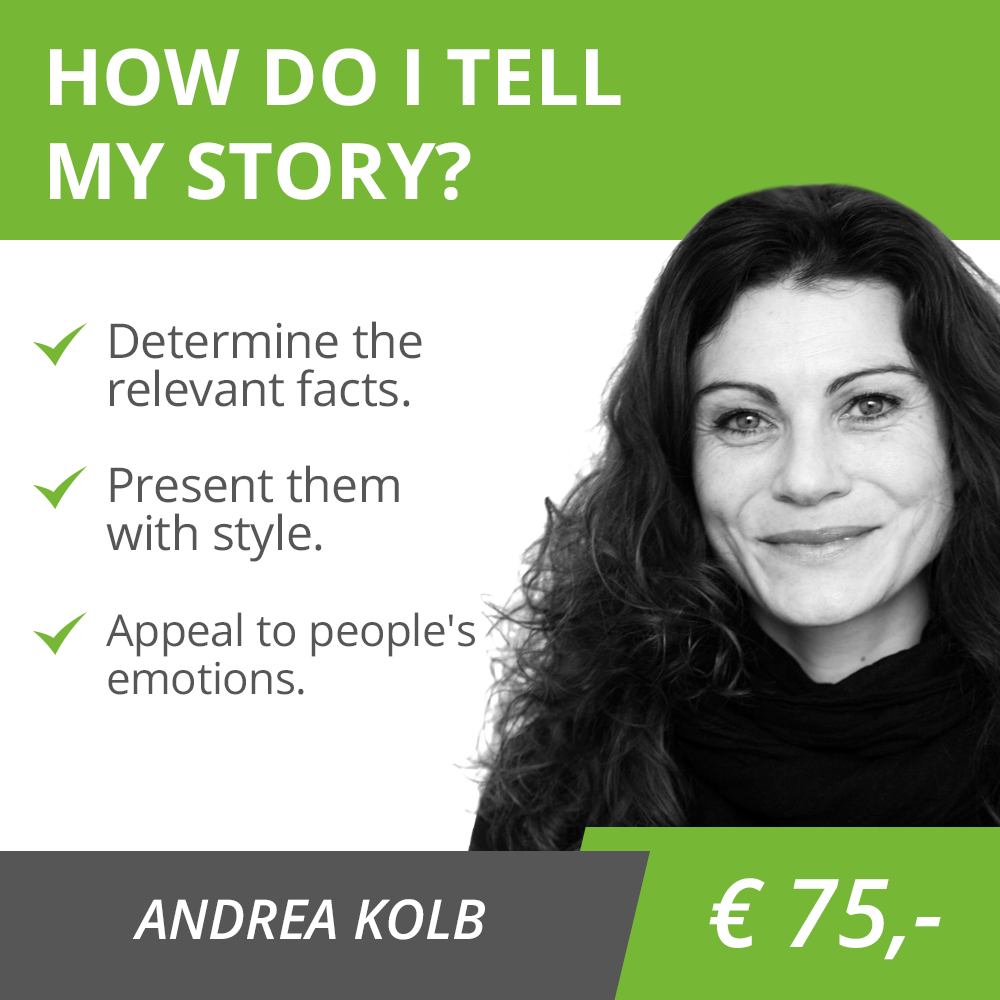 What's included?
Determine the relevant facts
Good stories are easy to follow and the stick in the listener's mind. But you still want to get across the relevant facts. An entrepreneur is often blind to the most important things because he or she is so deeply involved into the product and business. The results are usually complicated presentations, which just confuse the listener. Identify the core message and wrap it in a memorable story.
Present them with style
The times are gone where design and style didn't matter. It's not only what you want to say but also how you present it. Identify your customer's taste and adapt your message and format. 
 


Appeal to people's emotions
Memories are created by exceptions. Outstanding messages, outstanding stories and outstanding design appeal to the observers emotions and will be recalled long after the message has been delivered. Learn how to keep the message focused and build empathy for your solutions and services. Give people the chance to build an emotional connection to your offering.  
 

What do I need to get the most out of this package?
You have an offering ready to present to the public.
You know which needs should your offering address.
You have basic understanding for your target group.
Included minutes: 35
Who is Andrea Kolb?
Creative lateral thinker and marketing expert, Andrea shapes your story telling and marketing strategy, also for CSR and social businesses.

Andrea Kolb is a marketing expert, story teller and social entrepreneur. After having finished her studies of economics and business administration in 1996 she started her career at Schmidt & Kaiser – a communication agency in Frankfurt. She left in 1998 to get more international working experience and moved to London, where she first worked at Henrion, Ludlow and Schmidt – a CI agency.
In 1999 she was appointed to the management board of the Laureus World Sports Awards in London. After the successful implementation of the event in Monaco in 2000, she moved to Munich and started her own communication agency "Calliope – inspiring brand communication". She has since then developed marketing strategies e.g. for Deutsche Bank AG, Campari, O2 Germany, DEDON and others.
In 2007 Andrea and her husband moved to Marrakesh and opened a city palace they had previously restored, the AnaYela, a "Place of Inspiration". It has won the World Hotel Award 4 times.
Living there inspired her to create the social fashion business ABURY. ABURY combines the desire for style and ethics, exclusiveness and sustainability in a unique and innovative concept.
Moreover, in 2012, she co-founded 2bd1.org in Berlin, a creative network to create common good and social profit. In 2013 she was awarded the victress award for social entrepreneurship.
Andrea is experienced at: Social Business, Story Telling, Motivation

Other focus areas: Creative Sustainable Events, Marketing, Alternative Communication, Modern Art
Andrea speaks: English, German
More from Andrea
Social and sexy?

article | EN

** All prices includes 20% VAT. Packages include a fixed set of minutes. Additional minutes are invoiced at the expert's standard rate of €2.00/min (incl. 20% VAT).