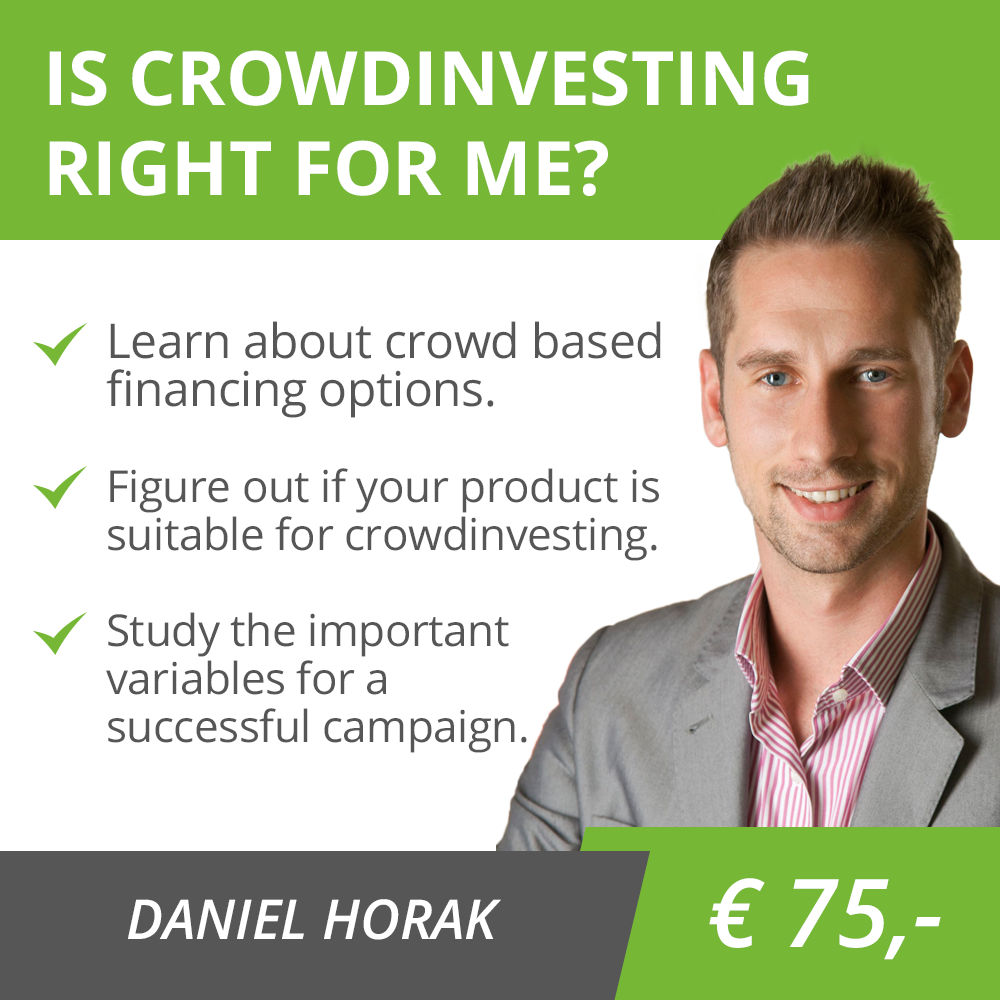 What's included?
Learn about crowd based financing options
While crowd based financing isn't a new thing per se, it has been gaining importance recently. Nowadays it is a viable alternative and is sometimes the best option. Learn what kind of different crowd based financing solutions there are. Study the key differences and be able to make educated decisions when defining the future of your projects.
Figure out if Your product is suitable for crowd-investing
After you're familiar with the different options, it is time to consider if your product is a fit for the crowd. Find out what types of products get a warm welcome and which don't work as well. Be able to see through the eyes of the beneficiary and know what make a successful crowd financed product. 


Study the important variables for a successful campaign

Many people think that the launch of a crowd-campaign means an automatic end of their financial worries. Interestingly enough, that's usually not the case. While the initial launch of a campaign is of substantial importance, there is a lot more to be done down the road. When running a campaign, you have to consider a number of internal and external factors and proactively act. Learn what makes the difference between a highly successful campaign and one that lingers or fails. Study all the important variables and be pick the important ones in order to amplify your output. Be aware of all the different benefits of a campaign and know how to execute it successfully. 

What do I need to get the most out of this package?
You have a product that's ready for the market.
You have a plan for the next steps after getting funded.
You know how much funds You need for producing the first batch.
Included minutes: 35

Who is Daniel Horak?
Daniel built Austria's biggest crowd investing platform which is currently expanding to Europe.
Before co-founding CONDA in 2012 Daniel gained entrepreneurial experience with his first startup "Spoken Language System". He has been an Entrepreneur and Founder since 2007 and is now an established member of the Austrian startup community. Currently, Daniel is the managing director for marketing & sales at CONDA, the Austrian crowd investing platform.
His expertise is often featured at conferences and discussion panels covering topics from investing to business model development. As one of the main mentors of the European Startup Live Academy accelerator program he advises companies on pitching in front of investors, focussing their presentations on aspects that are relevant and the problem they are solving.


Daniel is experienced at: Crowd Investing, Crowd Funding, Financing


Other focus areas: Startups, Business Development
Daniel speaks: English, German

** All prices includes 20% VAT. Packages include a fixed set of minutes. Additional minutes are invoiced at the expert's standard rate of €2.00/min (incl. 20% VAT).