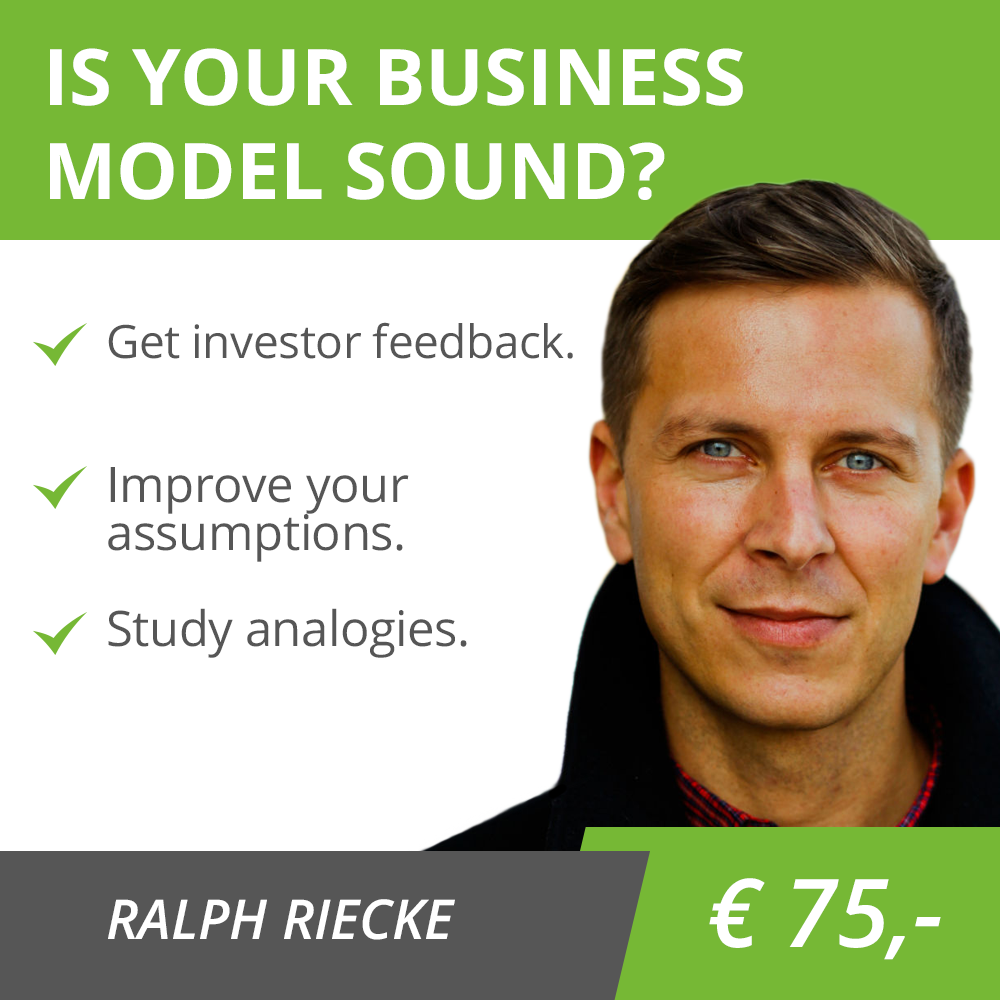 What's included?
Get investor feedback
You have spent some time evaluating your basic idea, have researched and gathered feedback from potential customers. You know all the important parts of your business model. Now you need feedback on all parts of your model, how they interact and things you may have missed. Figure out where the risk lies in your model and how to overcome it. A seasoned and serial entrepreneur has unique insights and can quickly identify challenges and opportunities.
Improve your tactics
Talking about your business is a simple form of pitching. Test your skills and language for delivering the core points of your business in a structured fashion for an investment audience. Learn to identify the strong and weak points of your business model and how to mitigate them when talking about your model.


Study analogies
An important lesson learned from serial entrepreneurs is their thinking in terms of analogies. This business is "the X for Y". Using an existing company analog not only makes talking about your idea easier – you can focus on what makes you unique – but also validates certain parts of your business model (as long as the existing company is strong and has validated it already). Find out who has used a similar business model, what the consensus is about that type of model and what to watch out for. 

What do I need to get the most out of this package?
You have identified the major parts of your business plan (ideally as a business model canvas).
You have identified some problems and solutions.
You have a summary of feedback you've already gained.
Included minutes: 40

Who is Ralph Riecke?
Ralph is a Senior Investment Manager at hub:raum Berlin. His responsibilities are identifying and selecting the best startups to join the Incubator and helping the portfolio teams to grow their business and achieve further financing.
He has many years of marketing and sales experience in and for international corporations, worked e.g. at a mobile, social community startup in Berlin and a San Francisco based management consultancy focusing on ICT innovation scouting and management.
He holds a graduate degree in strategic communication & planning, is a business coach and gained international work experience in Europe, the USA and with clients in the Middle-East. Ralph is fascinated by innovative business models and startup ideas, loves Skateboarding and living in Berlin.
Ralph is also a mentor at HIIG and Seedcamp Berlin.
Ralph is experienced at: Funding, Startups, Business Models

Other focus areas: Advertising Technology, Communication, Connectivity (Access Enhancement), TV & Media
Ralph speaks: English, German
More from Ralph Riecke
Studying arts and selling copy machines

interview | EN

** All prices includes 20% VAT. Packages include a fixed set of minutes. Additional minutes are invoiced at the expert's standard rate of €2.00/min (incl. 20% VAT).