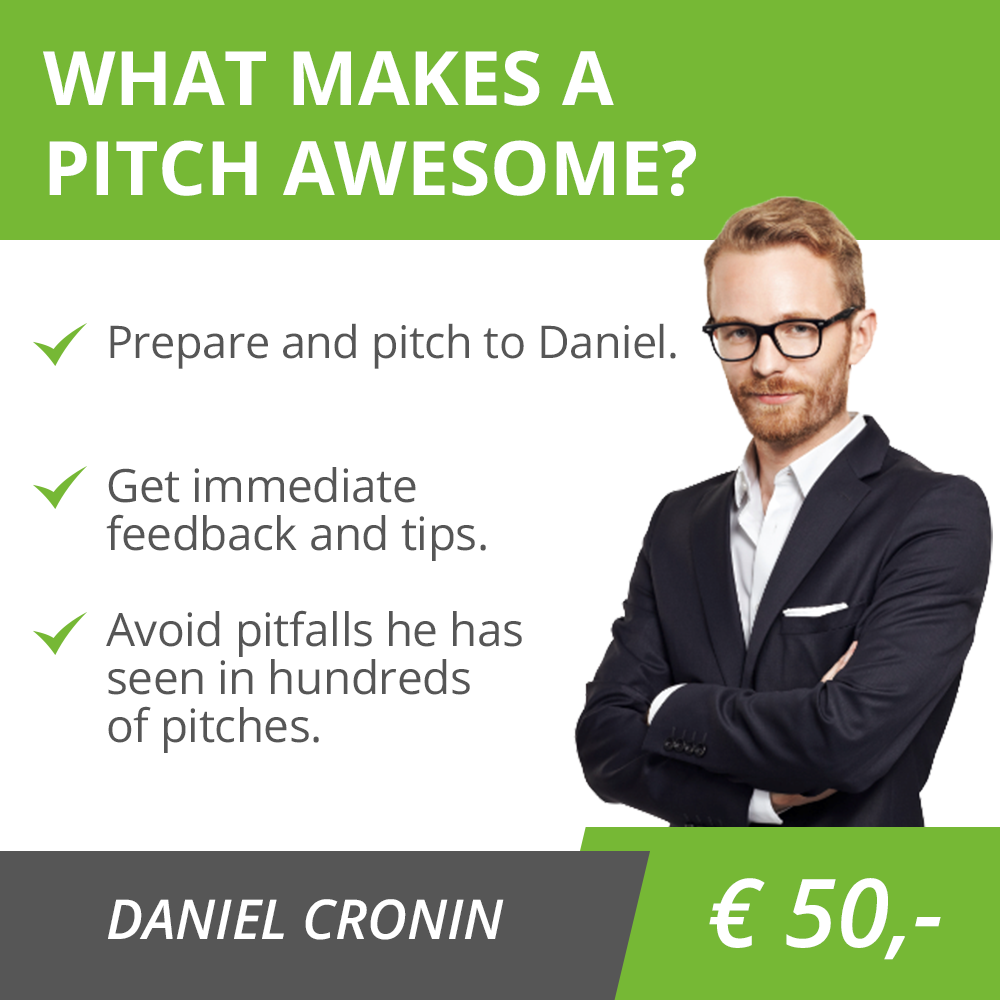 What's included?
Prepare and pitch to Daniel
Do you know the daunting feeling right before pitching in front of a broader audience? Or how about in front of potential investors? 
Either way a good preparation is substantial for your outcome. When pitching in front of your mirror you can correct lots of details. Unfortunately the mirror isn't going to give you any feedback. Do your homework and use the chance to pitch to Daniel! The best way to master your pitch is to start doing it early and do it often. Pay the pitch doctor a visit and learn how to rock the stage!
Get immediate feedback and tips
After hearing your pitch, Daniel is going to assess the big picture. Depending on how good it was, you might want to give him a short walk through your concept and main target group. Daniel will be happy to give you his feedback and tips. Learn what went good and where do you need to improve. Be able to deliver a precise, straight forward presentation and get your message across. 

 


Avoid pitfalls he has seen in hundreds of pitches
Besides being a passionate marketer, Daniel has seen a lot from the startup stage. Not only has he been on all major startup events in Austria, but he has hosted himself a number of them. Let him share his experience with you and be able to avoid the common pitfalls. 

What do I need to get the most out of this package?
You have a clear understanding of your USP.
You understand why it is important for customers or potential investors.
You have prepared at least one version of your elevator pitch (90 sec.)
Included minutes: 30

Who is Daniel Cronin?
"Entrepreneur, TV-Presenter, Lecturer. I'm a passionate marketer and public speaker."

Daniel is a passionate marketer and public speaker. He studied at the Vienna University of Economics and Business where he qualified with a Masters in Economics & Social Science.
He wrote his thesis on Mobile Marketing and in 2011 became a founding member of the full-service app-agency "all about apps", where he was Head of Marketing.
Daniel is Co-Founder and Member of the Board of AustrianStartups and lectures Mobile Business and Marketing at the University of Applied Sciences in Hagenberg. He is the presenter of the show "2Minuten, 2Millionen – die PULS4 Startup-Show" on national TV. Daniel has also hosted many events and panels including Startup Week 2011, Pioneers Festival 2012 as well as the World Business Dialogue and the EBAN Annual Congress, both in 2013.
Not only is he a great marketer, but he is also constantly surrounded by numerous startups. Daniel has seen and heard a lot. He knows pretty good all the major pitfalls which one could have when communicating an offering to the audience.
Daniel is experienced at: Pitching, Marketing

Other focus areas: Apps, Mobile
Daniel speaks: English, German
More from Daniel
Interview for Conda from 06.05.2015

interview | DE

There's nothing better than creating your own job

interview | EN

** All prices includes 20% VAT. Packages include a fixed set of minutes. Additional minutes are invoiced at the expert's standard rate of €2.00/min (incl. 20% VAT).